January 7, 2021
If you're interested in investing, yet find the process a bit confusing, you're not alone. There are quite a lot of terms to dissect and understand, as well as discover which investments will benefit you, the everyday investor, the most. Before you put your hard-earned dollars into any investment, let's get you educated like a pro early-stage investor would be. The good news is you no longer have to be a venture capitalist or "VC" to get the early track to investing in the most promising emerging companies.
When that rare investment opportunity comes along that could change your life, if you don't act fast, you could be on the "what if" train and it's not an enjoyable ride for your portfolio, especially when the train is on the track of success. Take notes because you're about to get an education in all things Regulation A+ otherwise known as a Mini-IPO. This informative guide will give you the confidence you need to get in on ground floor investment opportunities that simply don't come around every day to everyday investors.
The JOBS Act
Let's get some history under your belt with the Jumpstart Our Business (JOBS) Act, which was signed by former President Barack Obama in 2012. Designed to make investing more accessible, the JOBS Act brought main street investors and start-ups together, birthing a beautiful relationship leading to opportunities never available before. The name says it all.
In the past, only accredited investors or traditional Wall Street investors could invest in start-ups. If you're wondering what percentage these investors represent the U.S population, it's a sad three percent. In other words, everyday investors, like you, never had a fighting chance to invest in the next big thing. But now you do!
In the landmark piece of bipartisan legislation, the JOBS Act greatly expanded entrepreneurs' access to capital, allowing them to go to the "crowd" and publicly advertise their capital raises through two key regulations. For you, the investor, this meant that both accredited and non-accredited investors could now become equity investors in small businesses.
The JOBS Act allowed retail investors to invest in start-ups in two ways. 
Start-ups can raise up to $1 million via equity crowdfunding, which is a form of investing by many small investors pooling their resources in exchange for equity.
Start-ups can raise significantly more through a newer vehicle called a "Regulation A" (or Reg A), which is an SEC-approved more formal version of crowdfunding or sometimes called crowdsourcing.
The SEC is required to make inflation adjustments to certain JOBS Act rules at least once every five years so, in 2017, it increased the amount of money companies can raise through such formal crowdfunding. It created two tiers of Regulation A by adding a "+" to the higher tier.
Tier 1: Ability to sell securities/shares of $20 Million or less in one year

Tier 1 offerings are not exempt from state securities law registration and qualification requirements ("blue sky" laws).

Tier 2: Ability to sell securities/shares of $75 Million or less in one year

Tier 2 offerings are exempt from state securities law registration and qualification requirements.
You still with me? It's a lot of information but keep reading so it all makes sense to you.
Regulation A+ Mini-IPO Benefits
Let's dig deeper into the world of Regulation A+ and introduce you to the term, "Mini-IPO."
Regulation A+ is also referred to as Mini Initial Public Offering (Mini-IPO). The fees associated with a Mini-IPO are much lower than traditional IPOs and the ongoing disclosure requirements are much less burdensome.
As a business that has launched a Reg A+ Mini-IPO offering, money isn't just the only driving factor. Mini-IPOs are attractive options for companies looking to grow their business quickly and also engage their customers. This is an added strategic advantage because investors in start-up companies, especially those with a direct-to-consumer focus, typically also become their customers. These customers then tell their friends and family about the company's products and services, and it becomes a multiplier effect to create exponential expansion of the business.
It's about building that community of like-minded people who believe in who a business is, what it's doing, how it's doing it, and the unique solutions it's bringing to the marketplace. This aspect is a very attractive high-quality to investors.
Regulation A+ Funding Process
Let's take a peek behind the scenes as a company goes through the process of a Regulation A+ Offering and begins to access investment capital. This is a fundraising process that requires time and preparation.
The first step is called "testing the waters." During this type of campaign, a company invites potential investors to see what capital they would be interested in committing.
The second step is the company completes a Form 1-A and pursues a Regulation A+ qualification with the SEC.
The third step is similar to a crowdfunding campaign where a company will "launch" its Mini-IPO and target investors both from within and outside of its existing network.
The final step is to mutually complete the relevant paperwork including a subscription agreement between the shareholder and the investor, accept investors' funds and issue the shares to the new investor.
How Does Regulation A+ Offering Investment Become Liquid?
In the past, for investors to become liquid, or in simpler terms, cash out, private start-up companies either had to go public through a traditional IPO or reverse merger or were folded into another company through a merger or acquisition (M&A).
Today, more liquidity options exist, which is a wonderful thing:
Private market secondary transactions
Merger and acquisitions
Direct listings
Special Purpose Acquisition Companies (SPAC)
Going public via a traditional IPO
Since there are now so many different liquidity options, it's a great time to be an investor in Regulation A+ Offerings.
What's Your Next Step?
As an investor, you're now armed with the knowledge to make an informed decision to diversify your portfolio. You also need to perform extensive research on a company you're going to invest in.
How much do you know about a company before investing in its future and yours?
Who is the leadership team?
What are the social commitments of this company and do they align with yours?
Are there corporate certifications?
Are there studies and statistics in the industry supporting the need for this business?
Is there a philanthropic element?
Is there a component to the company that resonates with you, i.e. woman-owned business?
Each potential investor is going to have his/her own measurements to decide where to put the money and how much to finance.
Now that you've gained an understanding of what a Regulation A+ Mini-IPO Offering is and the benefits to you as an investor, where are you going to put your hard-earned money? How will you discover the next big thing? The work has been done for you and the next big thing is at your fingertips, but as expected, it won't last long.
The Next Big Thing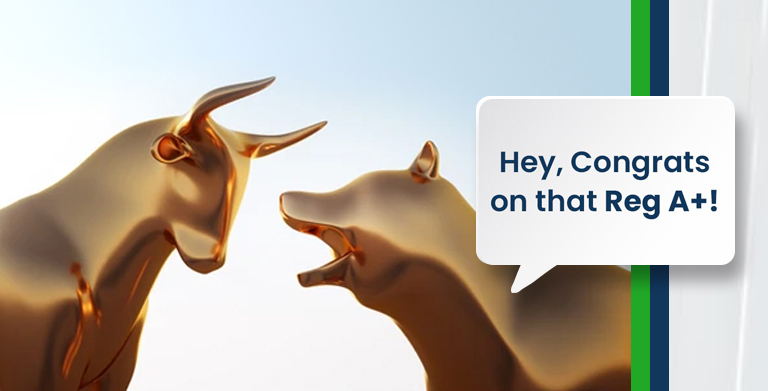 With a strong value proposition, Reg A+ companies are customer-focused and often heavily invested in the value their products and services can offer in the future. This presents tremendous opportunities for investors, especially those seeking a business with expertise that doesn't currently exist within an industry.
As a main street investor, you have the chance to disrupt the venture capital community and finally get in on the next big thing. There's a company of socially conscious entrepreneurs that warrants your attention.  The Greenfield Groves Group is offering healing and hope through personalized e-commerce, online telehealth consultations, a specialized family of product brands, modern-day wellness communities, socially responsible commitments, a vertically integrated supply chain, and of course, passion and expertise.
The company is helping our world take control of our health and happiness that is still in the process of healing from the pandemic. How can you become part of Greenfield Groves' head-to-toe solutions needed to keep the mind, body, and wallet sound? Their Regulation A+ Mini-IPO Offering is currently open for main street investors, like you. This is that rare opportunity, the one that used to be reserved for venture capitalists, that's now available for you to invest in.
Greenfield Groves' Regulation A+ Mini-IPO offering currently values each share of common stock at $1.00 and the minimum investment is $100 USD. It's an exciting time for the everyday investors who can now become part of the next big thing. For further information, visit our investor center where you'll find the quick and simple investment forms alongside tutorial videos to walk you through each step of the process. In addition, our investor relations team is available any time to answer your questions.
Hope You Enjoyed the Read!